The region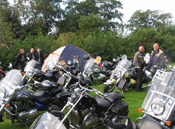 The campsite is located in a region called't Wytfean, in Dutch, 't Witveen near to the village Eastermar. A great location in the Northern three provinces.
This area has a typical character; all farmlands in this region are surrounded by a line of trees and alder webbing. Also the roads in this region are often with, on one or both sides, a line of trees. You can find here various free to ride dirt roads.
Slightly more west of 't Wytfean there are the lakes: De Leijen and the Bergumermeer, with in between the village of Eastermar. In short: a very nice environment with plenty of opportunities for a nice tour.